3.022017
How Great Brands Rebound: Ford's Remarkable Turnaround Was Driven by the Brand as Business Management Approach
The story of how the venerable Ford Motor Company managed to recover from the Great Recession of 2008 may be one of the greatest corporate turnarounds in U.S. history.  And it demonstrates how great brands rebound from turbulent times.  Not only did Ford recover, but it ended up thriving and achieving heights once thought impossible for an American carmaker.
A Different Way of Thinking About Brand
Alan Mulally, the former Boeing executive who was recruited by Bill Ford to save the company, has gotten most of the credit for pulling off the unlikely feat.  There is no question that Mulally deserves every accolade he has received.  The automotive industry, if not the whole country, should thank him for leading the restoration of a brand so iconic and a company so instrumental to American pride and competitiveness.
But the story of Ford's recovery from its near-death experience is more than a lesson in leadership by one person.  The truth is, the turnaround at Ford required wholesale changes in culture, strategy, operations, and execution, and involved a series of decisions that company executives made as a team.  It was a transformation that, at its core, involved a different way of thinking about the company and its brand.
Ford's turnaround makes for the ultimate case study of how great brands rebound.  Great brands including Nike, Apple, and IBM have achieved their leadership positions by integrating their brand platform into every aspect of their business.  Their brand aspirations and core brand foundations have undergirded their strategies, fueled their operations, and informed their tactics.  This "brand-as-business" approach is the same methodology that great brands including Ford have used to survive some of the most destructive threats in business.
One Ford
Mulally introduced, and his team eventually embraced and executed on, the notion of "One Ford," a single vision for the organization and its mission.   In short, "One Ford" was about unifying the people, plans, operations, and products of Ford to restore the brand to automotive leadership.  It involved putting the purpose, spirit, and values of the Ford brand at the center of the organization and executing with relentless commitment and laser-like focus on whatever it took to make Ford great again.
Mulally was inspired by a 1925 advertisement for Ford he found in the corporate archives.  Entitled "Opening the Highways to All Mankind," the Saturday Evening Post ad depicted a Norman Rockwellian scene of a young family atop a grassy hill overlooking a road filled with automobiles, the shadows of a Ford factory in the distance.  It encapsulated the simple, yet utterly compelling, vision with which Henry Ford began Ford Motor Company:  "I will build a car for the great multitude…it will be so low in price that no man making a good salary will be unable to own one — and enjoy with his family the blessing of hours of pleasure in God's great open spaces."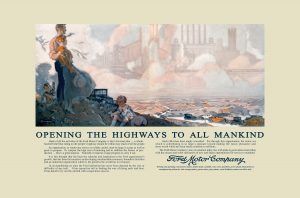 Mulally understood that, at its core, Ford stood for cars with value for the masses; the company just needed to once again deliver on that brand promise.  Every decision he and his team made from then on was put through that brand filter.  Mulally once explained the decision to sell the company's luxury brands, including Aston Martin, Land Rover, Jaguar, and Volvo, saying, "It was a question of 'What did Ford stand for?' What do people think when they see Ford's blue oval? Do they think of us as a house of brands, or do they understand that they are going to get a complete family of best-in-class vehicles that are also affordable?"
The Core Brand Values and Brand Essence of Ford
Ford's successful recovery was actually a return to the company's founding values and the core essence of the Ford brand.  Mulally and his team recognized that the company had deviated far from what was most valuable and different about Ford, and they set a new commitment to that core.  Using the original Ford brand vision as its guide, company leaders developed and then executed with steadfast perseverance a plan that turned in quarter-after-quarter of profits at a time when almost every other organization was still reeling from the worst economic crisis since the Great Depression.  That original brand vision then laid the foundation for continued profitable growth.
Imagine how the history books would differ had the Ford Motor Company never lost its commitment to the core of its brand.  Henry Ford certainly had laid the foundation for a brand-driven approach with his vision for the way Ford would change the way his organization worked, the way the business would succeed, and the way people would live.  But over time, those values got lost in the internal push for growth and the external pressure from competition.  Of course, the company could not have avoided the disruptive forces of the Great Recession, but if it had kept Henry Ford's brand vision as its central organizing and operating idea, recovery might have been easier, faster, or both.
Great Brands Rebound with Brand As Business
When an organization has suffered a blow or experienced a major setback, the "brand as business" approach provides the power, clarity, and focus it needs to recover.  Turnaround leaders use their brand as the engine, fuel, and compass to right the ship.  But great brands don't wait until they're under duress to adopt the brand-as-business management approach.  Great brands live out brand as business to sail ahead when business is thriving, to buttress their efforts when under duress, and to bounce back after suffering a setback.
related: