2.082016
Super Bowl Ad Round-Up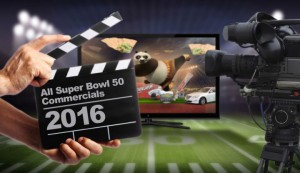 I was captivated by the big game tonight.  I'm not talking about the one played on the football field during Super Bowl 50.  I was much more interested in the game that advertisers were playing — the one where celebrities, animals, and jokes were the players; 117 million or so viewers acted as the referees; and consumer attention, engagement, and action were the goals.  And in that contest, there were some clear winners — and losers.
Here's my Super Bowl ad round-up — a completely subjective, but hopefully interesting take on which ads got my attention, for good and for bad.
ads that gave me goosebumps
Audi Commander — The mystery of the old man and reference to "commander" drew me in; the juxtaposition of stunning features of the new R8 and space rocket lift-off made the car seem really exciting and breakthrough; David Bowie's Starman as the soundtrack was inspirational — the kicker was the small tribute to Bowie in the titles on the final screen.
ads that did a great job selling their products
Amazon Baldwin Bowl — Amazon brilliantly used celebrities Alec Baldwin, Dan Marino, Jason Schwartman, and Missy Elliott to do a product demo of its voice command controlled Echo device.  Plus, showing savvy in integrated advertising, Amazon programmed its Echos to respond to customers who mimick the ad in real life.
Toyota The Longest Chase — Prius pokes fun at itself in a story of bank robbers who use it as a getaway car, causing newscasters to comment "I never thought I'd see a Prius in a chase scene" and "I'm not making this up."  The spot demos in a highly engaging, humorous way how fast, agile, and long-lasting the car is.
Advil Distant Memory — Eye-catching quick clips of people doing sometimes strange, sometimes funny, definitely pain-inducing activities are interspersed with a strong message that Advil makes pain a distant memory.  Perhaps not the most elegant spot, but for an ad in the drug category, it made its point without resorting to stupid tactics like personifying pain with an animated character (e.g., Xifacin), using celebrities who overshadow the product (e.g., Jublia), or using euphemisms to describe suffering (e.g., Astra Zeneca).  What the Advil ad lacks in imagination it makes up for in impact.
ads that made me feel good
Pantene Football Dads — Sweet moments between football stars and their daughters effectively conveyed the message that dads who spend more time with their daughters are key to raising more self-confident women.
Super Bowl Babies — A couple of teaser spots showing children of different ages who were born nine months after the Super Bowl and using the tag "Football is Family," culminated in a anthem-style ad that brought them together in a choir singing with Seal a version of his moving song, Kiss from a Rose.  A heartwarming reminder of how the NFL has been woven into the fabric of our culture.
the ad that left me scratching my head
Squarespace Real Talk — If I didn't know what Squarespace was, this ad wouldn't have made any sense.  And if I didn't know who Key & Peele were, this ad would have seemed even more random.  This ad was so confusing, it makes the old GoDaddy Super Bowl spots actually seem almost informative.
ad I didn't want to like but have to admit i did
Mountain Dew Puppymonkeybaby— Depicting some guys interacting with a "puppymonkeybaby" seemed like just another stupid-sight-gag-with-three-guys-on-a-couch ad.  But the "puppymonkeybaby" theme song got stuck in my brain and the spot effectively conveyed that Kickstart has the unexpected combination of three ingredients — "dew, juice, and caffeine."
I'd love to hear which ads you thought worked and why — please share in the Comments section.