Are you ready to discover
What Great Brands Do?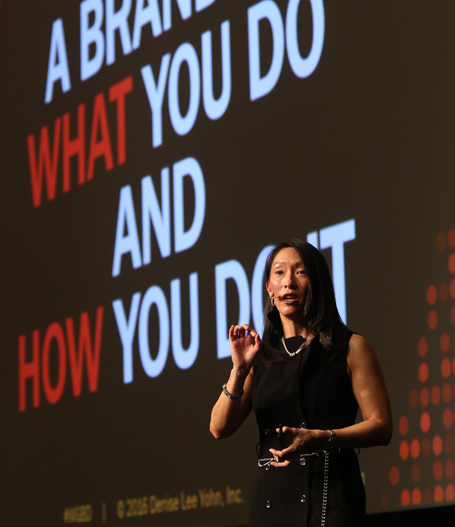 A vital resource for CEOs, entrepreneurs, and other leaders, bestseller
What Great Brands Do: The Seven Brand-Building Principles That Separate the Best from the Rest
(#WGBD) paves a clear and accessible road to building a world-class brand. Author and brand expert Denise Lee Yohn identifies the seven key principles behind the world's top brands and shows readers how they can repeat these principles in their business.
Spotting an exceptional brand is easy. Building an exceptional brand, however, can be one of the most overwhelming and elusive challenges organizations face.
Many business leaders mistakenly believe that brand-building superstars like Apple, GE, Zappos, and Nike achieved their successes as a result of good timing, years of experimentation, or just plain luck. Denise knows the truth: these companies have employed specific techniques that elevated brand-building from a niche marketing function to the core driver of the business, turning them into industry icons.
Denise sheds light on top brands'
proven techniques and reveals how:
Raves about What Great Brands Do
Yohn knows exactly what it takes to raise a brand to the top and keep it there. Here she shares techniques that can elevate a brand to icon status.  Yohn's book is helpful reading for executives and managers at all levels, and it will guide the next generation of great brands.
Publisher's Weekly
What Great Brands Do is well-written and insightful… This is a book worth reading over and over.
Verne Harnish
Founder and CEO of Gazelles, Founder of Entrepreneurs' Organization (EO), Author of Scaling Up
I read your book and my entire company now hears about your teaching every single week. Thank you Thank you. We are on our way to making Vocalink a great company thanks to you!
Amelia Gomez
CEO, Vocalink Global – www.vocalink.net
More Endorsements
What Great Brands Do includes:
Case Studies that Analyze the Brand-Building Successes and Failures of Top Companies.
Examining how this approach operates in the real world, What Great Brands Do features case studies from companies including Google, Trader Joe's, IBM, Patagonia, Shake Shack, and many others.
Demystifies the Brand-Building Process by Laying Out Clear Action Steps.
These philosophies contribute to Denise's innovative brand-as-business approach, which puts the brand at the heart of every company decision and fuels faster growth, increased profit margins, stronger corporate cultures, and superior stakeholder relationships.
Want to join the conversation about What Great Brands Do (#WGBD)?
Denise is creating a virtual collage of great brands in action and invites your contributions via social media. To participate, please take photos of great brands you see and tag them with the hashtag #WGBD on Twitter or Instagram — or find and follow the
#WGBD board on Pinterest
.